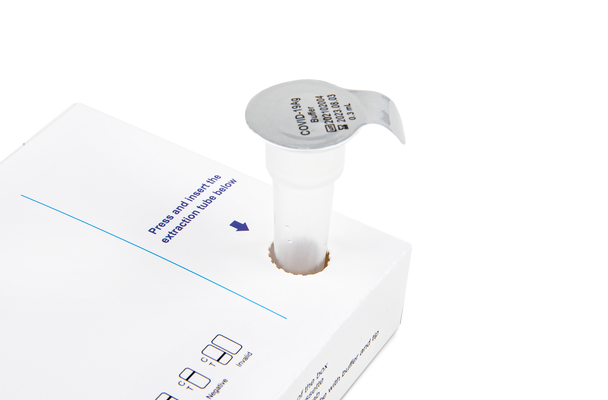 Healgen Rapid COVID-19 Antigen Self-Test In Stock & Available To Buy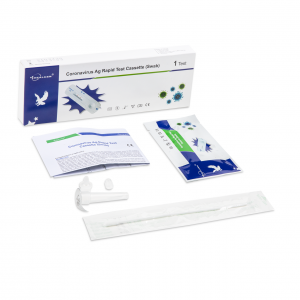 Product Code: GCCOV-502a-H1
Size: 1 Test
The Healgen Coronavirus AG Rapid Test Cassette is now available as a single cassette self-test and has gained the required CE markings for use by individuals for self-testing purposes.
The Healgen lateral flow test (LFT) is a quick, reliable and cost-effective way of detecting active COVID-19 infections in both symptomatic and asymptomatic patients. It is ideal for employers wanting to diagnose potential infections within their workforce. The Helgen antigen tests are one of the few that have been evaluated and validated by the UK's DHSC to meet their standards for lateral flow testing. They are approved tests for use by schools, hospitals and the army. They are also used by the NHS in the UK.
More details on the MHRA/DHSC lateral flow test evaluations including the Healgen result publication can be found HERE
AND
More details on the MHRA/DHSC protocols for antigen test evaluations can be found HERE
OVERVIEW
Evaluated and Validated by the UK's MHRA/DHSC: Approved test for use by schools, hospitals, and the army. Used by the NHS in the UK. More details HERE.
French Government Validation: Full compliance with the Ministry of Solidarity and Health requirements for COVID-19 testing.
German Government Validation: Full compliance with the Federal Institute for Drugs and Medical Devices COVID-19 testing requirements.
Detects Kent and South African Variant: Study by PHE and University of Oxford confirms both variants are detectable. More details HERE.
EU Approved Test: One of the few tests approved for use across all member states of the EU.
Easy to Use: No special equipment needed, intuitive visual interpretation.
Rapid: Quick sampling with results in 15 min.
Convenient: All necessary reagents provided & no other equipment needed.
CE Marked: For Self-Testing.
Accurate: 100% Specificity, 97.25% Sensitivity & 98.73% Accuracy.
ISO13485: Healgen manufacture in accordance with their ISO13485 Quality Management accreditation. They also hold many additional ISO accreditations.
KEY ADVANTAGES OF COVID-19 RAPID TESTING
Helps prevent outbreaks in the workplace ensuring continuity of service, manufacturing and trading.
The test detects active infections so it helps to determine if a person has the virus right now.
Point-Of-Care testing is cost-effective – eliminating the need for expensive lab-based testing.
Testing has become a key part of corporate social responsibility policy — it's hugely beneficial for the mental wellbeing of employers, staff and customers.
Rapid antigen tests will detect Covid-19 proteins in both asymptomatic and symptomatic patients.
Test results are delivered on-site in 15 mins. No need to send samples away for analysis.
Unlike other antigen tests, our tests look for nucleocapsid protein making it the gold standard for rapid antigen testing.
The tests were evaluated in the USA and highly accurate with 99.2% Specificity, 96.7% Sensitivity & 98.7% Accuracy.

Contents:

Each kit contains all the components required to run a single test:
1 Individually sealed test cassette
1 Sterile swabs
1 Extraction Tube and Tip
1 Extraction Buffer Vials
1 Instruction manual (IFU)

Who can run these tests?
The test should be only be used in accordance with the instructions supplied and is CE-marked for self-testing.

What does it do?
The novel coronaviruses belong to the β genus. COVID-19 is an acute respiratory infectious disease. People are generally susceptible. Currently, the patients infected by the novel coronavirus are the main source of infection; asymptomatic infected people can also be an infectious source. Based on the current epidemiological investigation, the incubation period is 1 to 14 days, mostly 3 to 7 days. The main manifestations include fever, fatigue, and dry cough. Nasal congestion, runny nose, sore throat, myalgia, and diarrhea are found in a few cases. This test is for the detection of SARS-CoV-2 nucleocapsid protein antigen. Antigen is generally detectable in upper respiratory specimens during the acute phase of infection. Rapid diagnosis of SARS-CoV-2 infection will help healthcare professionals to treat patients and control the disease more efficiently and effectively.