Q-TOX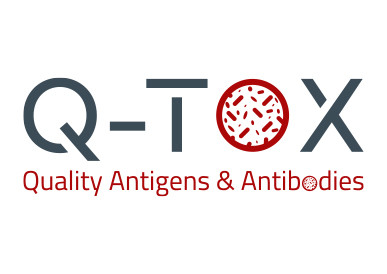 An extensive range of quality products for infectious disease research and development, in the manufacture of immunoassays in IVD and for vaccine research. We very much welcome customer collaborations and look forward to discussing your specific research or manufacturing needs.
The Q-Tox range covers viral and bacterial infectious disease antigens and antibodies, Toxins, Virus receptors, Virus-like particles, non-structural proteins and envelope proteins, as well as Veterinary products. Key products include tools for work with Flaviviruses, Emerging Diseases, Chikungunya , CMV and Insect- borne diseases.
Infectious disease antigens ensure retention of their native configuration and offer increased sensitivity and specificity of serology-based IVDs, are effective as immunogens and facilitate vaccine research and development.
Infectious disease antigens are from a wide range of established and emerging viral, bacterial and protozoal diseases. We provide recombinant as well as native antigens and can supply bulk and customised formats.
Infectious disease antibodies are available as mouse monoclonals, recombinant human monoclonal antibodies, sheep and rabbit polyclonals and are suitable for a variety of immunoassays such as ELISA, WB, IF and IHC.
Toxins are a wide range of high purity bacterial toxins suitable for many cell biology and immunology applications and are supplied lyophilised or liquid.
VLPs and virus receptors are an expanding line of recombinant products, produced mainly in mammalian HEK293 cells or baculovirus-infected insect cells.
Veterinary research range comprises over 100 antigen and antibody products for use in immunoassay development and other research applications.
{{ productCount ? productCount : 'Showing 1–24 of 1261 results' }}