Affinity Biologicals Inc.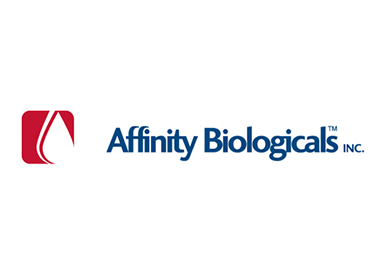 Affinity Biologicals, Inc. is a primary manufacturer of products used worldwide in thrombosis and hemostasis research and medical diagnostics.
Their products include an extensive line of antibodies to coagulation and hemostasis related proteins, conjugates, antibody pairs for immunoassay of human and animal analytes, the VisuLize line of complete ELISA kits, and a full line of human plasma products including immune-depleted plasmas, calibrators and controls. Custom Services include protein purification, antibody production, assay development, custom manufacturing and lyophilization.
Affinity has an ISO 13485 registered Quality System and manufactures in vitro diagnostic medical devices licensed by the US Food and Drug Administration, Health Canada and European regulatory authorities (CE Mark).
{{ productCount ? productCount : 'Showing 1–24 of 244 results' }}