Quadratech Launches Veterinary Product Range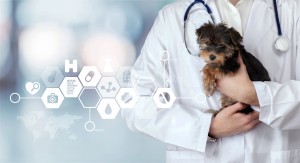 Quadratech Diagnostics are delighted to announce their entry into the Veterinary market with innovative products from market leaders VetExpert and Seamaty.
We are turning our 30 years of in-vitro diagnostic experience to the veterinary arena, offering a range of compact laboratory equipment and rapid diagnostic tests. The Seamaty SMT-120V is a compact dry chemistry system, has a wide range of rapid assays available and can generate results in as little as 12 minutes. To complement this Seamaty have a benchtop haematology analyser that offers a 5 part deferential on just 20ul of whole blood.
VetExpert was established in 2008 to support veterinarians and caregivers around the world. VetExpert products include rapid diagnostic tests, neutraceutical supplements, dermocosmetics and specialised diets. VetExpert's award winning products are founded in veterinary medicine and they currently work with over 30,000 veterinarians worldwide. Our VetExpert Academy provides excellent training and advice to our valued customers and is available online.
COME JOIN US
We are excited to confirm that we will be exhibiting at 2 upcoming exhibitions where we would love to talk to you!