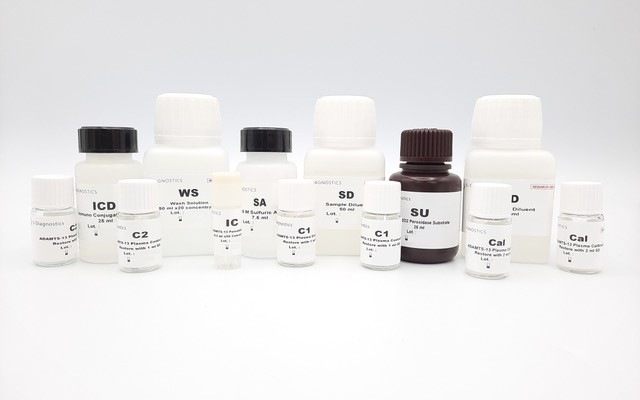 5-ELISA ADAMTS-13 Quantitative test for the determination of ADAMTS-13 antigen in human citrate plasma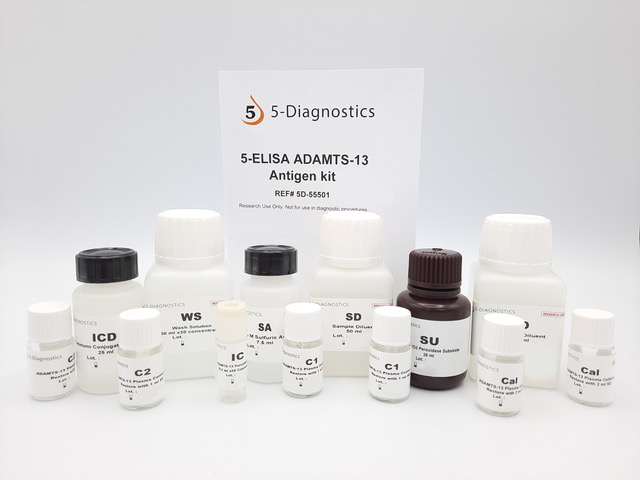 Product Codes: 5D-55501
Size: Kits of 96 Tests
ADAMTS-13 is one of the family of metalloproteinases or metalloprotease which are a group of protease enzymes which require a metal to be involved in their catalytic function. Another example of a metalloprotease is ADAM12 which is a significant catalyst during embryonic development.
ADAMTS-13 is also known as von Willebrand Factor (vWF) Cleavage protease and is one of the largest molecules in the ADAMTS-group mainly synthesised in the liver but also expressed to varying degrees in other tissue and cell types for example endothelial cells.
ADAMTS-13 key role is to prevent ultra large vWF multimers forming and accumulating in plasma which leads to platelet clumping and thus the formation of microthrombi that disrupt microcirculation starving organs such as the brain, kidneys and heart of oxygen. ADAMTS-13 specifically cleaves highly multimeric vWF (ref 4) and this mechanism can either be disrupted by inhibitory autoantibodies or caused by mutations in the ADAMTS-13 gene (hereditary form being Upshaw-Schulman Syndrome) which can result in Thrombotic thrombocytopenic Purpura (TTP) a microangiopathic haemolytic anaemia (MAHAs). TTP was first described in a 16 year old female by Eli Moschcowitz in New York in 1952, who we now know wrongly ascribed the disease to a toxic cause. Symptoms include bleeding into the skin or mucous membranes, shortness of breath, fever and a fast heart rate. Plasmapheresis is used to treat acquired TTP which both removes the autoantibodies and replaces the inhibited ADAMTS-13, corticosteroids are also usually given but other drugs such as Rituximab a monoclonal antibody used to knock out B cells and thereby reduce the inhibitory effect and may be helpful if the TTP is unresponsive to corticosteroids and plasmapheresis. Another possible treatment option is the use of other immunosuppressive drugs including Capalacizumab and cyclosporine.
Although rare TTP is life-threatening and therefore diagnosis is extremely helpful in understanding the causes of the disease and its management.
To aid more rapid diagnosis the new 5-D ADAMTS-13 ELISA can be run as a faster one step 65 minute assay (although non urgent tests can be run as a 2 step assay in 2 hours). The shortened assay results in a faster but accurate diagnosis. The test microplate (in a convenient 12×8 well strip format enabling diagnosis of individuals and not batches), is coated with polyclonal antibody to human ADAMTS-13 which means also detecting the rare mutations in the CUB domain which it appears are important for the stability of ADAMTS-13 and its extracellular secretion.