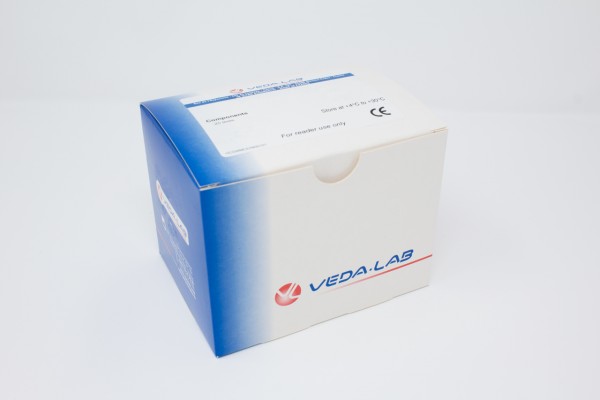 Check-1 Procalcitonin Quantitative Rapid Test for Easy Reader+® 15 Mins x 20 Tests (Special Terms Apply*)
X
We're always working hard to give our customers as much information on products and the best price possible. If you need any assistance or would like a quote please contact us and we will be happy to help
Check-1 Procalcitonin Quantitative Rapid Test for Easy Reader+® 15mins (33091) is a quantitative determination of Procalcitonin in whole blood, plasma or serum samples. Manufactured by VEDALAB.
Description
Procalcitonin (PCT) is a small protein of 116 amino acid residues with a molecular weight of approximately 13kDa which was first described by Moullec et al. in 1984 (1) and which is the calcitonin precursor originating in the thyroid gland. However, PCT is produced and secreted in a completely different manner from calcitonin. In response to mediators of an infectious stimulus, PCT is produced and constitutively secreted from nearly every cell type in the body (2) PCT has been a valuable marker for sepsis for nearly two decades, ever since it was initially discovered that PCT levels increased exponentially during bacterial infections and that there was a correlation between the amount of PCT and severity of the infection (3). As such, Sepsis being a condition with high morbidity and mortality (4) it is of up most importance to detect it as early as possible to initiate an efficient therapy. In healthy individuals or for local infections, the PCT concentration in blood is lower than 0.5ng/mL.
The PROCAL-CHECK-1 test is a quantitative rapid screening test for the detection of PCT in serum, plasma and whole blood samples.The method employs a unique combination of monoclonal-dye conjugate and monoclonal solid phase antibodies to identify PCT in the test samples with a high degree of specificity. As the test sample flows through the absorbent device, the labelled antibody-dye conjugate binds to the PCT forming an antibody-antigen complex. This complex binds to the anti-PCT antibody in the positive reaction zone (T) and produces a pinkrose colour band.
In the absence of PCT, there is no line in the positive reaction zone (T). The reaction mixture continues to flow through the absorbent device past the reaction zone (T) and control zone (C). Unbound conjugate binds to the reagents in the control zone (C) producing a pink-rose colour band, demonstrating that the reagents are functioning correctly. Depending on the PCT concentration, lines of different colour density will appear in the reading window allowing the quantitative measurement of PCT when used in combination with the Easy Reader® rapid test reader.
Product Specification
Specification Type
Specification Value
Product Range
Product Code
33091
Product Name
Check-1 Procalcitonin Quantitative Rapid Test for Easy Reader+® 15 Mins x 20 Tests (Special Terms Apply*)
Product Category
Product Brand
Product Analyte or Application
Product Size
1 x 20 tests
Product Storage
4°C to 30°C
Product Special Terms
Minimum Order Qty: x 25