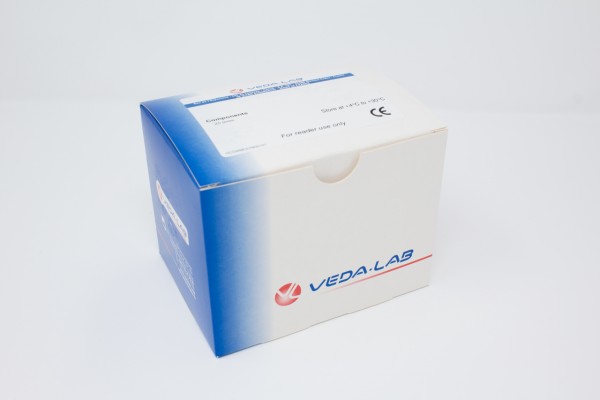 Check-1 CA-125 Quantitative Rapid Test for Easy Reader+® 15mins
X
We're always working hard to give our customers as much information on products and the best price possible. If you need any assistance or would like a quote please contact us and we will be happy to help
Check-1 CA-125 Quantitative Rapid Test for Easy Reader+® 15mins (74091) is an immunochromatographic rapid test for the quantitative detection of CA 125 (ovarian cancer antigen) in whole blood, serum or plasma. Manufactured by VEDALAB.
Description
Cancer Antigen (CA 125) is a surface antigen associated with epithelial ovarian cancer. In serum, CA-125 is associated with a high molecular weight glycoprotein. Published studies have indicated that elevated serum CA 125 levels can be found in individuals with serious endometroid, clear-cell and undifferenciated ovarian carcinoma (1, 2, 3). The serum CA 125 concentration is greater than 35 U/mL in 60 % of women with ovarian cancer. Most of the studies recommend this level of 35 U/mL as the decision level (4). The serum CA 125 is elevated in 1 % of normal healthy women, 3 % of normal healthy women with benign ovarian diseases, 6 % of patients with non-neoplastic conditions (5) (including but not limited to first trimester pregnancy, menstruation, endometriosis, uterine fibrosis, acute salphingitis, hepatic diseases and inflammation of peritoneum, pericardium or pleura). Serial determinations of serum CA 125 as well as pelvic examination increase the test specificity.
Serum CA 125 concentration may be useful in monitoring treatment and distinguishing between good response to treatment and progressive malignant disease with poor therapeutic response. CA 125 is a serum tumour marker for monitoring response to chemotherapy, detecting disease recurrence and distinguishing malignant from benign pelvic masses. A rapid fall in CA 125 during the chemotherapy process predicts a favourable prognosis.To date, CA 125 is the most sensitive marker for residual epithelial ovarian cancer. CA 125 may also be elevated in patients with lung, cervical, fallopian tube, and uterine cancer and endometriosis (6, 7).
The CA-125-CHECK-1 is a rapid quantitative assay for the detection of ovarian cancer antigen in serum, plasma or whole blood to be used as a screening test. The method employs a unique combination of monoclonal dye conjugate and polyclonal-solid phase antibodies to identify CA 125 in the test samples with a high degree of specificity. As the sample flows through the absorbent device, the labelled antibody-dye conjugate binds to the CA 125 contained in sample.
This complex migrates on the membrane and is bound by the polyclonal anti-CA-125 antibodies coated on the solid phase in the reaction zone (T). The colour intensity of the test band is proportional to the CA 125 concentration. The mixture continues flowing through the absorbent device past the reactive zone (T) and control zone (C). Unbound conjugate binds to the reagents in the control zone (C), producing a pink colour band and demonstrating that the reagents are functioning correctly.
Product Specification
Specification Type
Specification Value
Product Range
Product Code
74091
Product Name
Check-1 CA-125 Quantitative Rapid Test for Easy Reader+® 15mins
Product Category
Product Brand
Product Analyte or Application
Product Size
1 x 20 tests
Product Storage
4°C to 30°C