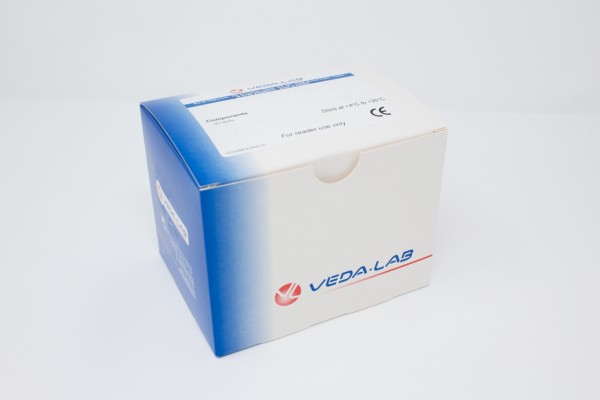 Check-1 FSH Quantitative Rapid Test for Easy Reader+® 10mins
X
We're always working hard to give our customers as much information on products and the best price possible. If you need any assistance or would like a quote please contact us and we will be happy to help
Check-1 FSH Quantitative Rapid Test for Easy Reader+® 10mins (11091) is an immunochromatographic rapid test for the quantitative detection of FSH (follicle stimulating hormone) in whole blood, serum or plasma. Manufactured by VEDALAB.
Description
The follicle stimulating hormone (FSH) is a glycoprotein hormone produced in the anterior pituitary in response to the gonadotropin releasing hormone from the hypothalamus. It promotes the development and maintenance of gonadal tissues which synthetise and secret the steroid hormones. In females, FSH is responsible for the ovum maturation during the menstrual cycle. The level of FSH is controlled through a negative feed-back mechanism by estradiol and progesterone. The determination of FSH in conjunction with LH is useful in detecting amenorrhea or anovulatory menstrual cycles. Furthermore, FSH can be used in diagnosis of polycystic ovary syndrome, psychogenic amenorrhea, pituitary tumors and ectopic tumor production. Follow-up of patients with choriocarcinoma and hydatidiform mole. In males, FSH stimulates the production of sperm and testosterone. FSH and LH measurement in males are useful in detection of primary and secondary testicular failures. FSH values are up to 15 IU/L for adult males and 200 IU/L for post menopausal females. Menstruating females have a mid cycle peak.
The FSH-CHECK-1 is a rapid quantitative assay for the specific detection of FSH in whole blood, plasma and serum samples. As the test sample flows through the absorbent device, the labelled antibody-dye conjugate binds to the FSH forming an antibodyantigen complex. This complex binds to the anti FSH antibody in the reaction zone (T) and produces a pink-rose coloured band. In the absence of FSH, there is no line in the reaction zone (T). The mixture continues to flow through the absorbent device past the reactive zone (T) and control zone (C). Unbound conjugate binds to the reagents in the control zone (C), producing a pink-rose coloured band, demonstrating that the reagents are functioning correctly.
Product Specification
Specification Type
Specification Value
Product Range
Product Code
11091
Product Name
Check-1 FSH Quantitative Rapid Test for Easy Reader+® 10mins
Product Category
Product Brand
Product Analyte or Application
Product Size
1 x 20 tests
Product Storage
4°C to 30°C