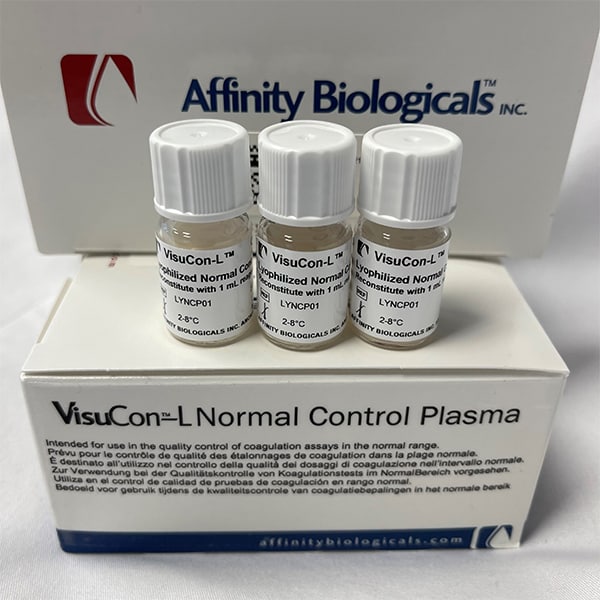 VisuCon-L Normal Control Plasma (Lyophilized)
X
We're always working hard to give our customers as much information on products and the best price possible. If you need any assistance or would like a quote please contact us and we will be happy to help
VisuCon-L Normal Control Plasma (Lyophilized) (LYNCP01) is an assayed control plasma intended for use in the quality control of coagulation assays in the normal range. This control plasma may be used to monitor the performance of coagulation assays for the following parameters: fibrinogen (Clauss Method), coagulation factors II, V, VII, VIII, IX, X, XI, XII, antithrombin activity, Protein C activity, and Protein S activity. Manufactured by Affinity Biologicals Inc..
Description
This Normal Control Plasma – Lyophilized may be used with mechanical and photo-optical coagulation instruments in conjunction with appropriate commercial reagents.  Good laboratory practice requires that assays be calibrated over the relevant range and that controls be performed regularly to confirm assay calibration.  This plasma is citrated human Pooled Normal Plasma – PNP collected from a minimum of 20 donors, buffered with 0.05M HEPES buffer, as well as stabilizing agents, dispensed and lyophilized.
VisuCon-L Normal Control Plasma – Lyophilized is cleared for in vitro Diagnostic use by FDA and CE marked.
Box containing 10 x 1 mL vials of lyophilized plasma, Prod. # LYNCP01
The results obtained with the VisuCon-L Normal Control Plasma – Lyophilized will be subject to the limitations of the assay system including types of reagents and instrumentation.
Product Specification
Specification Type
Specification Value
Product Range
Product Code
LYNCP01
Product Name
VisuCon-L Normal Control Plasma (Lyophilized)
Product Category
Product Brand
Product Size
10 x 1 ml
Product Storage
2°C to 8°C
Product Analyte or Application