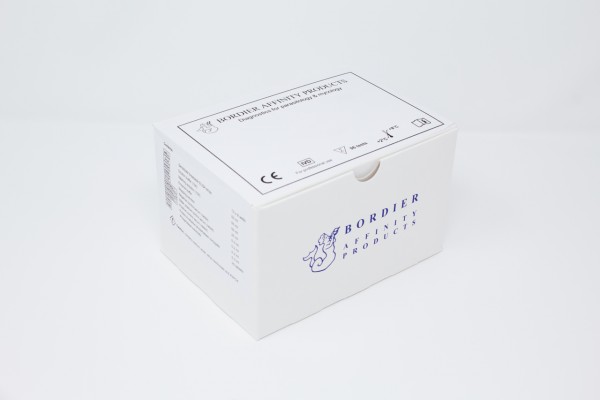 Microsporidia IFAT Kit
X
We're always working hard to give our customers as much information on products and the best price possible. If you need any assistance or would like a quote please contact us and we will be happy to help
The Bordier Microsporidia IFAT Kit (8100) is an indirect immunofluorescence assay for the specific diagnostic of human intestinal microsporidiosis. Manufactured by Bordier Affinity Products.
Description
Intended Use:
The IFAT Bordier Microsporidia kit is intended for the direct qualitative detection of both species spores in human stool. This test thus allows a species diagnosis.
Background:
Microsporidiosis is a worldwide opportunistic infection caused by Microsporidia, a group of obligate intracellular parasitic fungi. Enterocytozoon bieneusi and Encephalitozoon intestinalis are the two species responsible for gastrointestinal disease in humans. Infections caused by E. intestinalis are treated with albendazole, while fumagillin has been shown to be effective for eradicating E. bieneusi. Thus, species identification is important for defining the appropriate treatment. Humans can be infected by ingesting Microsporidia spores. Infective sporoplasm invades host cells, multiplicates and matures into spores. The host cell membrane is disrupted and releases the spores to the surroundings. These free mature spores can infect new cells, thus continuing the cycle. Infection occurs on severely immunocompromised persons. The most important symptom is diarrhea. Diagnosis is based on microscopic examination of spores in fecal samples, an immunofluorenscent assay or detection of DNA by PCR.
Principle and Presentation:
The kit contains monoclonal antibodies and the fluorescent conjugate allowing 2 x 50 immufluorescence assays on microscope slides. Monoclonal antibodies will bind specifically to samples spores attached to the slide wells. Unfixed antibodies will be washed away. The presence of spore-specific antibodies is detected with a fluorescent anti-mouse IgG conjugate. A second washing step will remove the unbound conjugate. After mounting between slide and coverslip, reading is performed with a fluorescence microscope.
Product Specification
Specification Type
Specification Value
Product Range
Product Code
8100
Product Name
Microsporidia IFAT Kit
Product Category
Product Brand
Product Analyte or Application
Product Size
2 x 50 tests
Product Storage
2°C to 8°C
Product Documents
Product FAQs
Are Bordier kits CE-marked?

Yes. The Bordier kits are CE-marked for Medical Professional Use only in accordance with EU IVD regulations (IVDD 98/79/EC).

Do Bordier hold ISO accreditation?

Which components can be used with all Bordier ELISA kits?

Can Bordier ELISA kits be automated?

Is it be possible to order single components?

Can Bordier ELISA kits be used with plasma?

Can Bordier ELISA kits be used with animal serum?

Can Bordier ELISA kits be used with other samples (cerebrospinal fluid, bronchoalveolar lavage, aqueous humor…)?

Is a positive control provided with IFAT kits?