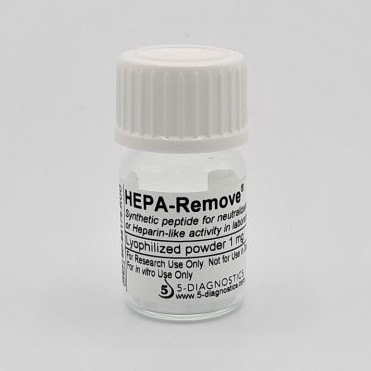 HEPA-Remove®
X
We're always working hard to give our customers as much information on products and the best price possible. If you need any assistance or would like a quote please contact us and we will be happy to help
HEPA-Remove® (5D-68179-RUO) is a synthetic peptide designed to inhibit heparin and heparinlike activity. Given its molecular properties, heparin or heparinlike molecules are known to interfere with many assays including coagulation assays and PCR-based assays. HEPA-Remove® is intended to be used to selectively complex heparins and thereby inhibit the heparin-associated assay interference. Manufactured by 5-Diagnostics.
Description
HEPA-Remove® is a synthetic peptide for the neutralisation/inhibition of heparins or heparin-similar compounds in plasma samples. HEPA-Remove® complexes Heparin specifically and eliminates its activity. Heparins and heparin-similar molecules interfere in several measurements of clinical samples, such as blood coagulation tests, PCR, etc. Hepa-Remove is an appropriate tool to eliminate these interferences.
HEPA-Remove® is also used in the measurement of aFXa activity of DOACs, if the patient's anticoagulant treatment has to be changed and traces of Heparin may interfere. In this respect, HEPA-Remove® guarantees the measurement exclusively of aFXa activity caused by DOACs.
HEPA-Remove inhibits FXII activation in aPTT. If the full activation of FXII is required in the measurement, HEPA-Remove has to be added after the activation of FXII, e.g. with the start reagent CaCl2.
Characteristics
1 mg, 0,320 mMoles
Lyophilised
Solubility:  1mg/mL in bidestilled water or dilution medium
Inhibitor Capacity  1 mg Hepa-Remove inhibits 4 IU anti-FXa activity
Inhibits FXII activation in aPTT
Also available for the elimination of interferences due to DOACs
DOAC-Remove™ 20: 5D-82410A
DOAC-Remove™ 50: 5D-82410B
DOAC-Remove™ 250: 5D-82410C
DP Filter: 5D-82412
Product Specification
Specification Type
Specification Value
Product Range
Product Code
5D-68179-RUO
Product Name
HEPA-Remove®
Product Category
Product Brand
Product Analyte or Application
Product Size
1 x 1 mg
Product Storage
2°C to 8°C
Product Documents