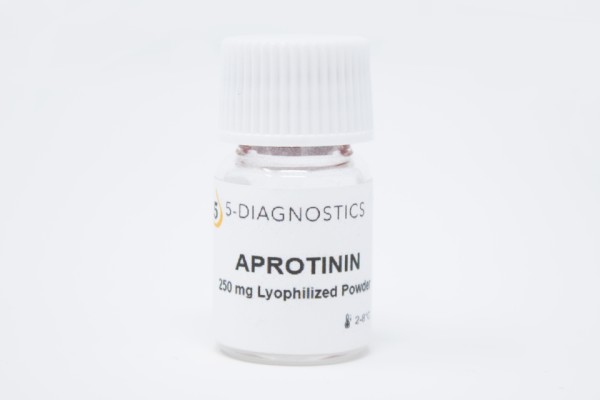 Aprotinin
X
We're always working hard to give our customers as much information on products and the best price possible. If you need any assistance or would like a quote please contact us and we will be happy to help
Aprotinin (5D-62106) is a competitive reversible serine proteinases inhibitor (from bovine lung tissue). Manufactured by 5-Diagnostics.
Description
Aprotinin, 250 mg, Lyophilized Powder is a multiple inhibitor of many serine proteases, including Trypsin, Plasmin, Urokinase, Kallikrein, and Factor XIIa. It contains 58 amino acids. It forms stable complexes with these enzymes.
Aprotinin can be used in any application where inhibitor of its targeted proteases is needed. Current uses concern protein isolation, removal of reactive proteases through solid phase, inhibition of undesired proteolytic activity in laboratory assays, or other techniques; for blocking fibrinolytic activity in vitro.
Aprotinin can be used for the determination of:
1. Targeted proteases inhibition
2. Laboratory assays and techniques
3. Protein purification
4. And more
Can be restored with 5mL distilled water for obtaining a solution at about 50 mg/mL.
Stable at 2-8°C up to the expiration date printed on the label and up to 6 months stored at below -20°C.
Product Specification
Specification Type
Specification Value
Product Range
Product Code
5D-62106
Product Name
Aprotinin
Product Category
Product Brand
Product Analyte or Application
Product Size
1 x 250 mg
Product Storage
2°C to 8°C